Post by MasQueRade on Aug 12, 2009 9:53:11 GMT 8
Nissan has unveiled its zero emissions electric vehicle, called the Leaf, which is expected to go on sale by the end of 2010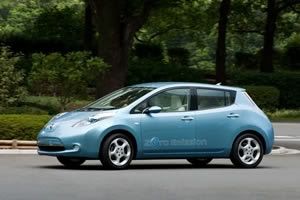 "Our car had to be the world's first, medium-size, practical EV that motorists could afford and would want to use every day. And that's what we've created. The styling will identify not only Nissan LEAF but also the owner as a participant in the new era of zero-emission mobility," said Masato Inoue, Product Chief Designer.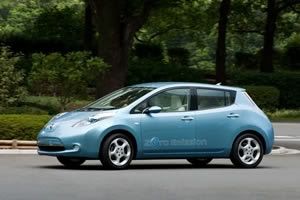 Using a lithium-ion battery pack to power its electric motor, the Leaf is said to be capable of a range of at up to 160km on a full charge, which Nissan says is enough to satisfy the daily needs of 70% of the drivers in the world. The front-mounted electric motor in itself can produce 107bhp, while the battery pack is able to increase that to 120bhp, delivering a healthy 280Nm of torque in the process. Top speed is quoted at 140km/h.
Nissan also claims that the battery can be charged back to 80% capacity in just 30 minutes, allowing it the possibility of a quick refill. A full charge using a normal household 220-volt power outlet will take 8 hours.
Other features that go to enhance the car's efficiency include LED headlights that consume just 10% of the energy of normal headlights, and aerodynamics optimised for maximum efficiency, such as split headlight covers that redirect airflow away from the door mirrors, cutting wind noise and drag.
Also, as previously reported, owners of the Leaf will be able to monitor their car's battery level, see how much charge is left in their car's battery, how much time is required for a full charge and the approximate cost of a fill up via an application developed in conjunction with Apple for the iPhone. This information will also be displayed on the in-car monitor when the car is on the move, making use of an advanced IT system developed by Nissan that connects it to a global data centre to provide support, information and entertainment around the clock.
The Leaf is expected to go on sale by the end of 2010, and Nissan claims that the Leaf will be the first fully electric vehicle that will be readily available for sale to the mainstream markets, and will be priced competitively against regular petrol cars of the same size.